Notes
HX-1 packed a lot of instrument into a very small unit. With this model Yamaha brought down the size of the stage model Electone. With solid state technology, the stage model no longer needed to be larger than the artist.

The HX was the Electone instrument to use AWM "sampling" technology in its voices. It also featured a full compliment of 16-operator FM voices.

HX was distributed in the form of many "mix and match" components, forming the HX-1, HX-3 and HX-5 models depending on which tone generator you used. The unit also featured a choice of three pedalboard units as well as spinet and console keyboards.

With its sleek and futuristic design, HX-1 showed-up in many Hollywood films. Look for a cameo appearance in "The Running Man" when the musician heroine is in her apartment.
Specifications
First Manufactured:
1987
Technology:
Digital

| | | | | | | | | | | |
| --- | --- | --- | --- | --- | --- | --- | --- | --- | --- | --- |
| Height | | Width | | Depth | | | | Weight | | |
| 94.10 | | 131.90 | | 99.50 | | cm | | 98.00 | | kg |
| 37.05 | | 51.93 | | 39.17 | | inches | | 216.05 | | pounds |

Amplification:
n/a
Number of Voices:
Unknown
Features

16 Preset Memories
25 Note Pedalboard
61 Note Keyboards
AWM1
FM1
Keyboard Percussion
MIDI
Programmable Rhythm
Rhythm Sequencer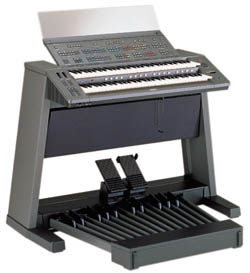 HX-1