Visit Dennis' HS-8 owners group


Click on the download
icon to download the zip/rar file containing the songs


no copyright infringement intented, if you wish these disk removed please let me know.

All of the Disks below are no longer available, these are personally owned by me or donated by users. Yamaha no longer supprots these disk in any way or form.

Electone Music Disks for HS-8 (MDR2,3)
Make sure these are put onto 720k Double (low) density disks (one hole only not HD disks)
(If you can't get 720k discs cover the right side hole of a HD disc then format it to 720k
or use your mdr to format the disc)

see how to format a 720kb disk in xp or vista at the bottom of the page


MDREliminator
Click here to visit download website

MDREliminator
Is your disk drive not working anymore then check out the MDREliminator it will replace your HX HS HE EL US-1 Electone and the FVX-1 Expander Music Disk Recorder (MDR ) and bring your Electone or Expander back to life with many advanced Midi features. Keep your Regos and songs safe from those old Floppy Disks and store them with names of your liking on your Windows Computer.

The MDR Blitzer has been added to allows multiple songs to be loaded and then played back. This gives you hours of music to listen to while you are doing less important things - e.g. having dinner. (Blitzer is like a free Wurlitzer).

quick links
Glenn's disks | Thunderbolts disks | Steven's disks | Adrian's US-1 Disks | Roger's Disks
Glenn's Disks
Bossanova

Girl from Ipanema
One Note Samba
Corcovard
Tristeza
Meditation
Desafinda

Casiopea

The Wind from the Sun
Halle
Zoom
Road Rhythm
Bayside Express
Coast to Coast

Chick Corea

Light Years
Time Track
Rumble
Prism
Elektric City
(the name "elektric" is spelt this way)

Classic 1

G'schichten aus dem Wienerwald op.325
Andante Cantabile
Brandenburgishes Konzert nr.5
(Brandenburg Concerto)

Pave pour une infante defunte

Contemporary

Tea for Two
Watermelon Man
Born Free
Baderine (FMP)
High Pressure
Classics

Contemporary 1

Freedom
Arthur's Theme
Papa Don't Preach
Never Gonna Give You Up
Hard to Say I'm Sorry
1-2-3

Crystal Jazz Scene - Junichi Akiyama

St. Thomas
Impromptus OP142 no.3
Take The "A" Train
Stella by Starlight
Night In Tunisia

Fusion 1

Heartbeat
Take Off
Around The Corner
Pleasure
Out of Town

Latin

Espana Cani
Pimpollo
Delicade
Maria Elena
Oye Negra
Tico Tico

Max Takano-Hot Pop Sounds

Tea for Two
Sesame Street
Disneyland
Moments Musical
Power of Love

Michael Jackson

BAD (the song not the disk)
The Way You MAke Me Feel
Man In The Mirror
I Just Can't Stop Loving You
Thriller
Beat It

Musical

The Sound Of Music
My Favorite Things
Oh What a Beautiful Morning
The Surrey with a Fringe On Top
Some Enchanted Evening
Bali Ha'i

Screen 2

Shadow of Your Smile
Singing in the Rain
Love theme from Romeo & Juliet
The Way We were
Raindrops
East of Eden

Sound Entertainments

On My Own
Starlight Express
All I Ask of you
One
Send in the Clowns:Original

Sound Interior

Peer Gynt, Suite No.1 Op46 "Morning"
Waltz from Serenade for Strings
(OP.48 2nd Mov.)

La Mattinata
Wave
On A Clear Day
Morning Island

Standard Jazz 1

Softly as in a Morning Sunrise
The Birth of the Blues
Blue Bossa
What's New
This Here
On Green Dolphin Street

The Heat's On! Big Band

The Heat's On
Lil' Darlin'
Splanky
Corner Pocket
Shiny Stockings
April In Paris

Whitney Houston

Saving All My Love for You
I Wanna Dance With Somebody
You Give Good Love
Greatest Love of All
How Will I Know
Where Are You
Didn't We Almsot Have It All
**********************************************
All of the Disks below are kindly donated by Thunderbolt (Canada)
please read the text file inside the zip file
top of page
YAMAHA-MusicSoft-HS-8 (Craig Knudsen)

Last Date
Sonata (Fresh Aire)
Japanese Folk Songs
Go Home (Stevie Wonder)

YAMAHA-MusicSoft-HS-8-(Max Takano).ZIP

Tea For Two
Autumn Leaves
Just The Two Of Us
Theme From Sesame Street

YAMAHA-MusicSoft-HS-8 (Phillip Keveren)

Bert's Pop
To A Wild Rose
Misty
Breakout (Swing Out Sister)

YAMAHA-MusicSoft-HS-8 (Yumiko Ueda)

Aranjues
That's What Friends Are For
Hornpipe (Handel)
La Isla Bonita

YAMAHA-MusicSoft-HS-8 (RSP-CSP Songs)

Song Data:
01 Can You Read My Mind
02 Careless Whisper
03 Copa Cobana
04 Endless Love
05 Here, There & Everywhere
06 Hold Me Now
07 Memory
08 I Like Dreamin'
09 Neutron Dance
10 Reminiscing
11 Somewhere, Out There
12 Wake Me Up, Before You Go-Go
13 When October Goes
14 Smooth Operator
15 When I Need You
16 You Don't Bring Me Flowers

YAMAHA-MusicSoft-HX-HS (Registration-Disk)

[HX] 01 Big Band
[HX] 02 Country
[HX] 03 Electronic Organ
[HX] 04 Theatre Organ
[HX] 05 Classical Organ
[HX] 06 Latin
[HX] 07 Contemporary
[HX] 08 Orchestral

[HS] 09 Big Band
[HS] 10 Country
[HS] 11 Electronic Organ
[HS] 12 Theatre Organ
[HS] 13 Classical Organ
[HS] 14 Latin
[HS] 15 Contemporary
[HS] 16 Orchestral

> HS-4/5/6 & 7 will have 8 Registration Memories/per/Bank.
> HS-8 will have 16 Registration Memories/per/Bank.
> Additional Information:Each Style can be stored on a RP Registration Pack:
HS: RP-3 or RP-5 [One Style]
HX: RP-3 [One Style], RP-5 [Four Styles]
**********************************************
All of the Disks below are kindly donated by Steven
top of page
YAMAHA-MusicSoft-HS-8-(Max Takano).Zip

Tea For Two
Autumn Leaves
Just The Two Of Us
Theme From Sesame Street

YAMAHA-MusicSoft-HS-8 (Yumiko Ueda) .Zip

Aranjues
That's What Friends Are For
Hornpipe (Handel)
La Isla Bonita

YAMAHA-MusicSoft-HS-8 (Craig Knudsen) .Zip

Last Date
Sonata (Fresh Aire)
Japanese Folk Songs
Go Home (Stevie Wonder)

YAMAHA-MusicSoft-HS-8 (Chris Anderson) .Zip

I Got Rhythm
There Will Never Be Another You
Harbor Lights
A Foggy Day

YAMAHA-MusicSoft-HS-8 (RSP-CSP Songs)

Song Data:
1. April in Paris
2. All Night Long
3. Days of Wind and Roses
4. The Entertainer
5. Hawaiian Wedding Song
6. It's A Small World
7. La Cumparsita
8. Morning Has Broken
9. Ordinary People
10. Stand By Me
11. Cherokee
12. Thoroughly Modern Millie
13. Tuxedo Junction
14. Undecided
15. Your Cheatin' Heart
16. Chariots of Fire

YAMAHA-MusicSoft-HX-HS (Registrations).Zip

[HX] 01 Big Band
[HX] 02 Country
[HX] 03 Electronic Organ
[HX] 04 Theatre Organ
[HX] 05 Classical Organ
[HX] 06 Latin
[HX] 07 Contemporary
[HX] 08 Orchestral
**********************************************
All of the US-1 Disks below are kindly donated by Adrian (near Palm Springs USA)
top of page
YAMAHA-US-1 (Chris Anderson) .Zip

When I Fall in Love
Speak Softly Love
My Favorite Things
Waiting for the Robert E Lee

YAMAHA-US-1 (Phillip Keveren) .Zip

All the Way
If I Loved You
Send in the Clowns
The Dancing Cat

YAMAHA-US-1 (Rollie Hudson) .Zip

Tracks unknown





YAMAHA-US-1 (Tom Sheen) .Zip

Fine and Dandy
Jeanine, I dream of Lilac time /Always
Begin the Beguine
Can't help lovin' 'dat' man
Thats Entertainment
**********************************************
All of the Disks and Books below are kindly donated by Roger (Belton Missouri USA)
Yamaha Musicsoft HS 8 Bob Hacker Vol. 1.Zip

Do You Know What It Means To Miss New Orleans

Oh! You Beautiful Doll
St. Louis Blues
Bye Bye Blues

Yamaha Musicsoft HS 8 Don Lewis Vol. 1.Zip

Just A Closer Walk With Thee
Going Home
Joshua Fit The Battle Of Jericho
Steal Away

Yamaha Musicsoft HS 8 Bob Hacker Vol. 2.Zip

Wildwood Flower
San Antonio Rose
For The Good Times
Country Boogie Blues

Yamaha Musicsoft HS 8 Jason Nyberg Vol. 1.Zip

How High The Moon
We Are The Reason
Caravan/Mirage
Who's Johnny

Yamaha Musicsoft-HS 8 Yamaha Artists Christmas

Angels We Have Heard On High
The Christmas Song
Sleigh Ride
O Little Town Of Bethlehem/
O Come All Ye Faithful

Silent Night

Yamaha Musicsoft-HS 8 Big Band (RSP-CSP Songs)

Song Accompaniment Data:
There are no performances, it is designed to accompany you as you play the melody.

01 Ain't Misbehavin'
02 How High The Moon
03 Bandstand Boogie
04 A Foggy Day
05 In The Mood
06 Just In Time
07 The Lady Is A Tramp
08 Li'l Darlin'
09 Manhattan
10 Misty
11 Moonglow
12 Opus One
13 Stompin' At The Savoy
14 Satin Doll
15 A String Of Pearls
16 They Can't Take That Away From Me

Matching Music Book pdf
(easy play music)


Yamaha Musicsoft-HS 8 Christmas (RSP-CSP Songs)

Song Accompaniment Data:
There are no performances, it is designed to accompany you as you play the melody.

01 Angels We Have Heard On High
02 Deck The Hall
03 God Rest Ye Merry Gentlemen
04 Hark! The Herald Angels Sing
05 I'll Be Home For Christmas
06 It Came Upon The Midnight Clear
07 Away In A Manger
08 Jingle Bell Rock
09 Joy To The World
10 Let It Snow! Let It Snow! Let It Snow!
11 O Christmas Tree
12 O Holy Night
13 Oh Come All Ye Faithful
14 Silent Night
15 We Three Kings
16 O Little Town Of Bethlehem

Matching Music Book pdf
(easy play music)

Yamaha Musicsoft-HS 8 Contemporay (RSP-CSP Songs)

Song Accompaniment Data:
There are no performances, it is designed to accompany you as you play the melody.

01 Can You Read My Mind?
02 Careless Whisper
03 Copacabana (At The Copa)
04 Endless Love
05 Here, There and Everywhere
06 Hold Me Now
07 Memory
08 I Like Dreamin'
09 Neutron Dance
10 Reminiscing
11 Somewhere Out There
12 Wake Me Up Before You Go-Go
13 When October Comes
14 Smooth Operator
15 When I Need You
16 You Don't Bring Me Flowers



Matching Music Book pdf
(easy play music)


Yamaha Musicsoft-HS 8 Country (RSP-CSP Songs)

Song Accompaniment Data:
There are no performances, it is designed to accompany you as you play the melody.

01 Always On My Mind
02 Another Somebody Done Somebody Wrong Song
03 Any Time
04 Blue Velvet
05 By The Time I Get To Phoenix
06 Grandpa, Tell Me 'Bout The Good Old Days
07 Green Green Grass of Home
08 Help Me Make It Through The Night
09 King Of The Road
10 Last Cheater's Waltz
11 Paper Roses
12 Rocky Top
13 Save The Last Dance For Me
14 Through The Years
15 You Needed Me
16 Yackety Sax

Matching Music Book pdf
(easy play music)


Yamaha Musicsoft-HS 8 Latin (RSP-CSP Songs)

Song Accompaniment Data:
There are no performances, it is designed to accompany you as you play the melody.

01 The Breeze And I
02 Desafinado
03 Begin The Beguine
04 The Girl From Ipanema
05 Kiss Of Fire
06 Little Boat
07 A Man And A Woman
08 Meditation
09 Never On Sunday
10 Orchids In The Moonlight
11 Poinciana
12 Quando, Quando, Quando
13 Quiet Nights Of Quite Stars
14 So Nice
15 Watch What Happens
16 Tango Of Roses

Matching Music Book pdf
(easy play music)


Yamaha Musicsoft-HS 8 Standard (RSP-CSP Songs)

Song Accompaniment Data:
There are no performances, it is designed to accompany you as you play the melody.

01 As Time Goes By
02 This Is All I Ask
03 Autumn Leaves
04 But Not For Me
05 Dancing In The Dark
06 Fly Me To The Moon
07 Here's That Rainy Day
08 I Left My Heart In San Francisco
09 I Will Wait For You
10 Lullaby Of Broadway
11 Limehouse Blues
12 Moonlight In Vermont
13 September Song
14 Tenderly
15 Twilight Time
16 Mack The Knife

Matching Music Book pdf
(easy play music)


Yamaha Musicsoft-HS 8 Variety (RSP-CSP Songs)

disk not available at this time

Song Accompaniment Data:
There are no performances, it is designed to accompany you as you play the melody.

01 April in Paris
02 All Night Long
03 Days of Wine and Roses
04 The Entertainer
05 The Hawaiin Wedding Song
06 It's A Smaal World
07 La Cumparsita
08 Morning Has Broken
09 Ordinary People
10 Stand By Me
11 Cherokee
12 Thoroughly Modern Millie
13 Tuxedo Junction
14 Undecided
15 Your Cheatin' Heart
16 Chariots of Fire

Matching Music Book pdf
(easy play music)

---

How to format a Double Density 720 kb disk in xp or vista
Open a new command prompt by going to Start->run and typing CMD
or click on start -> accessories -> command prompt
Insert your blank unformatted 720kb floppy disk into the drive.
now... at the command prompt type format a: /t:80 /n:9
(make sure you have spaces between each set of letters and text in the above code)
Now press the enter key
Your floppy disk will be formatted as a 720KB Double Density Floppy Disk ready to use in your MDR.
below is a screenshot I did on my XP computer.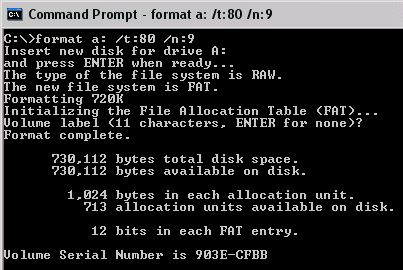 Special note: If your mdr does not play the disk you may need to do the following:
Turn off all file 'Attributes' flags because can cause the disk not work on some MDRs, displaying a CF04 Error or simply not work at all.
- open the disk from your computers floppy drive
- select all files on the disk-
- then right-click on the mouse
- then properties
- on the lower part of the window uncheck (take the tick out of the box) the 'Read-only', 'Hidden' and/or 'Archive' boxes. (and/or any other boxes).

click pic. for larger view